so day 2 of foss begins with keynote talk by ditesh. quite unrevealing the scene of opensource . like who's who behind the scene.
next, attended Git talk by Kamal Fariz. in easy, git is kinda Time Machine. it keeps the file that been changed separately. I never been use subversion whatnot, but having the point that with Git, every developer can work on different module starting from the same tree. from the same tree, they could grew their own blob. and then, they just need to rebased it. project management here is pretty important. Oh btw thanks for the t-shirt!
next, because i have no idea of the current session, i've been listening to Fedora Kiosk Mode by James Morris. To my surprise, this provide me solutions for developing Interactive Kiosk. yay. to install windows on a kiosk is pretty, not useless but not much things improves, plus with badass viruses. using Fedora Kiosk Mode maybe the solution + the enhancement of security of the kiosk that we will develop for our client. Btw, we can develop an Interactive Kiosk with Webcam Input, Touchscreen, all done in Flash.
next, since I'm using Apple :p i have to have attending the session entitled = Mac: A UNIX Programmer's Paradise by Jinny Wong eventhough i have no idea. I've installed iPhone SDK but lazy enough to run it, because didn't have the iPhone ( hint: i might get it later especially if it has Adobe Flash Players :p )
Then, lunch served. Again it was subway. I thought because we're skipping tea breaks, we would have a nice asian cuisine to commemmorate the foreign speakers.
After that, again, i have no idea of the two session after lunch but odin persuade me to listen to SAP by Redhuan Daniel Oon. Adempiere come to my knowledge but, it was about accounting thingy. not my type but Redhuan's charisma makes me stick my butt on the chair to listen to what he has. One thing he has, I notice he dress like steve jobs. wearing roundneck longsleeve with sport shoes but no ipod attached. Oh well he have the macbookpro :p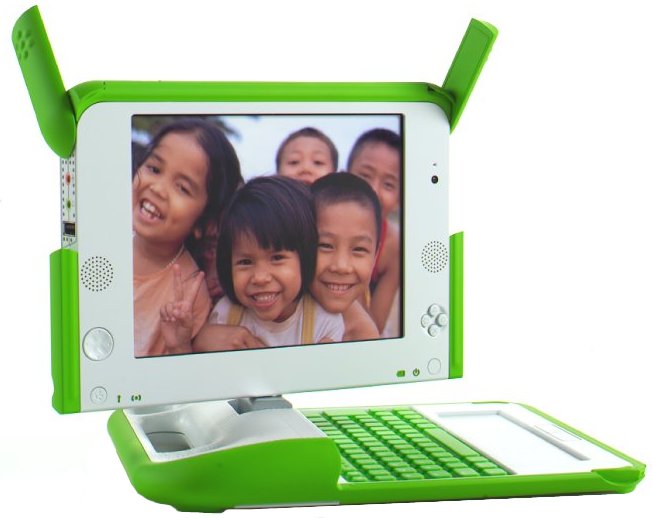 Next, run to another classroom to listen to OLPC. One Laptop Per Child. OLPC is fun, I'm looking to have it for my kids and also, for me myself to hack it and develop Flash coursewares/E-learning/ or even, games. Discovered that OLPC can run Flash using Gnash, which I never look and know about it. OLPC is fun because, aside from the normal keyboard, they also have a kind of PSP buttons on two-sides of the monitor.
Then, lightning talks. Man I love lightning talks. Preetam Rai starts with his idea of tagging but more on a unique way. his ideas is like this example
'A' borrow a book from library, read it, and finish it.
upon returning, 'A' will write about his opinion about the book on the TagItem website, and a code will be generated in example #id859
and 'A' stick a sticky notes in front of the book written 'nice books #id859′
then, 'B' comes in, read that sticky notes, and went to the website and key in #id859
what appears in the website is 'A's reviews on the books.
then, 'B' return the books and do the same thing, sticking it with #id860
and this cycles keeps on and on.
Must say, such a nice cool stuff from him. kudos ! and this is the thing
next was my turn. I'm sharing about Open Screen Project. Open Screen Project is like 'Write Once – Flash Everywhere'. Now with Adobe OpenSourcing their runtime/players, remove licensing fees for devices that want to have Flash Players, publishing the APIs and also their protocols, this means some serious hit and leap from Adobe to deploy the Flash almost anywhere. We can have FLV player in our device that will deliver HD content/ .H264 Awesome!
next is, well, more techical talks :
shariman – fedora projects
Ow – Denormalizing DB
Shahruzzaman – Demographic of Malay Translation in OSS
Swee Meng – Ubuntu.My
Sam – hacking WRT G54
Kaeru – Opensource business to get money
Ditesh – couchsurfing
Pamela Fox ( from google mind you ) – Color your hair == I LOLed! she has the firefox-colored hair.
Kudos to Sam for, he's actually the one who invite me and sabau to OpenSource community. back in the January of this year, he invited us to the OpenSource InstallFest in MMU Cyberjaya.
Another Kudos to kaeru. His talk about opensource business is very exhilarating. I always follow freelanceswitch so his content is not very farfetched from what i get there. but the way he's explaining are great. quotes
"Write up what you've done, tutorials, code and your country. Free advertising for yourself and gain reputation"
lastly, after the lightning talks there was jayaKumar keynote. He's such a charismatic speaker. He was able to talk in… how many languages??? Put aside the programming language that he knew, he able to speak malay, mandarin, english and also tamil. one of his quotes
"Run; Study; Redistribute; Modify"
Foss save the best for the last, indeed from JayaKumar. Then, all speakers gather round and the closing begins, with a claps and also a pledge to continue this un-conference. That is Free Open Source Software Malaysia. So the un-conference foss.my08 ends with a bright future to the foss scenario in this Boleh-Land.
As for me personally, eventhough I'm more from a creative industry, I celebrate this event by getting as much knowledge I get and use it for the better of mankind. I was skeptical and i paid late for this event for kept asking 'what will i get ?'. On thursday, i said ' screw this, i'm going to pay and go even i don't know a single thing about OSS'.
But when i walked out from APIIT, i got something. Knowledge that is
P/S: 11/11 is the Adobe CS4 Launching. I might want to shoot this question
"with now Open Screen Project has been initiated, could there be any possibilities of Flash IDE become an Open Source Software? The catch is to persuade more developers building RIA's on various devices and different platforms. What do you say?"
Well I mean, with Open Screen Project, programmers can build a full-fledge/standalone Flash Players by themselves. In example, I've read that OLPC can run Flash but must be in URL format. So what the programmers/hackers can do is to
Run; the Flash Player
Study; the Flash Player, how it works
Redistribute; to other hackers/programmers to build on different things. while working on it, might want to use Git as repository, have the same tree but different blobs.
Modify; Modify to perfection to suit the devices.
For some weird reason, i felt that I'm start crapping just now. Nuff said, I just don't want to get caught sleeping in VIP/Media/Press/Professional seat in Adobe CS4 Malaysia Launching Event this morning that will be a shame to a nation.. Oyasuminasai~~  z_z ( this is such a long P/S )